Jeremy Renner returned to his home from the hospital after two weeks since he suffered a snowplow accident.
The Avengers star, 52, had been hospitalized since New Year's Day, when he was injured by the snowplow near his Nevada home, leaving him with "blunt chest trauma and orthopedic injuries," his rep. previously told the media.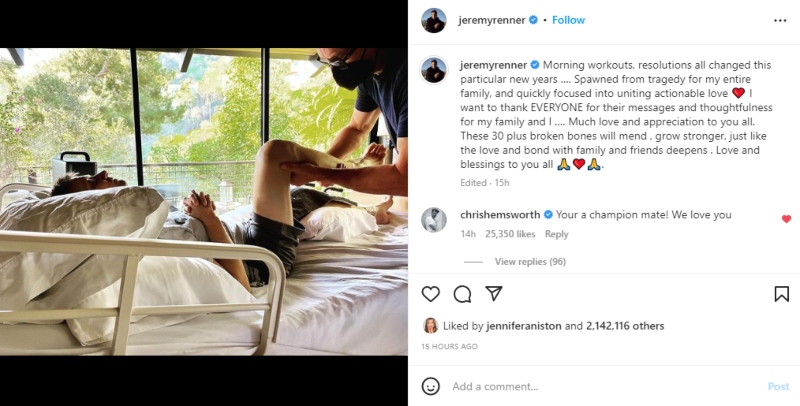 Renner took to Twitter and shared his health update with fans and followers. He wrote, "I want to thank EVERYONE for their messages and thoughtfulness. Much love and appreciation to you all. These 30 plus broken bones will mend, grow stronger, just like the love and bond with family and friends deepens."
Just hours after Renner shared his health update, celebrity fans including Chris Hemsworth, Gwen Stefani, Chris Evans sent messages for the actor's speedy recovery.
Taking to the comments section, Hemsworth wrote, "You're a champion mate! We love you." Stefani also wrote, "praying for u."
Evans wrote, "That's one tough mf'er. Has anyone even checked on the snowcat??? Sending so much love," adding a heart emoticon.
Renner also responded to Evans, writing, "Love you brother…. I did check on the snow cat, she needs fuel," adding a wink and crying laughing icon at the end.