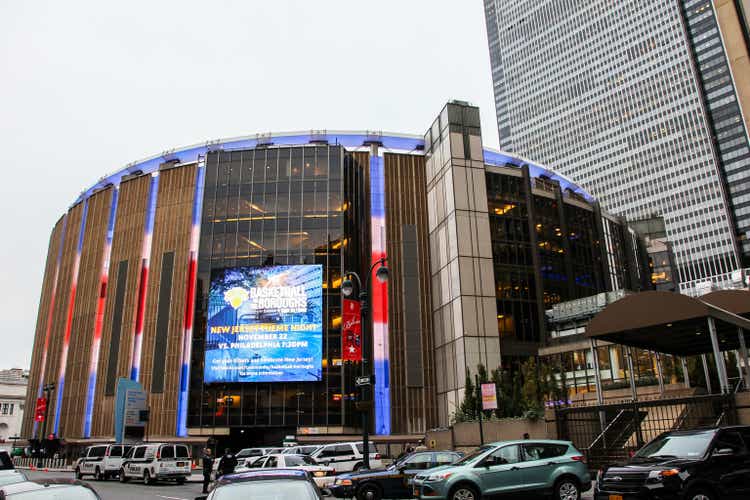 If MSG Entertainment (NYSE:MSGE) sells its Tao nightclub and restaurant business, it could be a sign the company's Sphere project in Las Vegas may need more funds to complete it and is running into a cost crunch, investment firm Macquarie said on Friday.
Analyst Paul Golding, who has an outperform rating on MSG Entertainment (MSGE), noted that any funds from the sale of the Tao business could go to the remainder of the Sphere project.
Late Thursday, the New York Post reported that MSG Entertainment (MSGE) was discussing selling the Tao business. The news outlet added that first round bids were being submitted, with MSG Entertainment (MSGE) Chairman James Dolan looking for an enterprise valuation of roughly $800M.
"We tend to agree with The Post that if Tao is up for sale, this may be motivated by capital needs to complete the Sphere – something we also noted when the proposed RemainCo. structure was revised most recently to include the Networks business, which was originally being spun with the legacy entertainment businesses and venues – Networks generated +$186M in [fiscal year 2022 adjusted operating income] to Tao's +$67M and Entertainment's ($118M) loss," Golding wrote in a note to clients.
In December, it was reported that initial plans of the spin-off, first proposed in August, had changed. The revised plan would separate traditional live entertainment – a collection of performance venues, entertainment and sports bookings and the Christmas Spectacular production – from MSG Sphere, MSG Networks and Tao Group Hospitality.
Golding added that if Tao was sold, any potential spin-off by MSG Entertainment (MSGE) could be muddled, as it would create an additional transaction and have implications around proceeds and taxes.
"Recall, the tax-free spinoff/RemainCo. structure used in prior spins and proposed for this one involves a plan for MSGE's cash to stay with RemainCo., and for a pro-rata distribution of 2/3rds of the economic interest in SpinCo, with RemainCo. retaining the other 1/3rd," Golding added.
"Proceeds implications and tax treatment for a business disposition could add complexity to this structure and for simply gauging what the post-spin shares might be valued at," Golding continued.
Golding added that MSG Entertainment (MSGE) is seen as "undervalued" but the next couple of quarters could be complex as it gets its capital structure right amid all of the moving parts.
In November, Jefferies downgraded its rating on Madison Square Garden Entertainment (MSGE) shares, citing "obfuscated" real estate values.