Priyadarshan knows how to tickle our funny bones. He has proven this numerous times throughout his 39-year career as a director.
Well, is that all he's done? Absolutely not! He has also given some of the biggest names in the Indian film industry the roles that defined their careers. From Malayalam superstar Mohanlal and Bollywood icon Akshay Kumar to Paresh Rawal, Kareena Kapoor, Anil Kapoor, Suniel Shetty, Rajpal Yadav, Nedumudi Venu, KPAC Lalitha, Revathi, Shobana, Jagathy Sreekumar, Lissy, Innocent, and MG Soman, the list goes on.
Priyadarshan started off by working as an assistant director in the 1978 Malayalam film Thiranottam, which also marked the acting debut of long-time collaborator Mohanlal. Several people who went on to become prominent figures in the Malayalam film industry, including actor Maniyanpilla Raju and producer G Suresh Kumar, also worked on this film. The film was delayed from its initial release due to reported censorship issues, and it finally came out in 2005.
The whizz, who has so far directed over 90 movies in four Indian languages—Malayalam, Hindi, Tamil, and Telugu, made his directorial debut with the screwball comedy Poochakkoru Mookkuthi in 1984.
His most well-known Malayalam films include Kilukkam, Chithram, Mazha Peyyunnu Maddalam Kottunnu, Vellanakalude Nadu, Vandanam, Thalavattam, Thenmavin Kombath, Kaalapani, Chandralekha, and Mithunam; however, he received pan-India recognition for his Bollywood movies such as Hera Pheri, Bhool Bhulaiyaa, Hungama, Garam Masala, Bhagam Bhag, and Hulchul.
In his resplendent film journey, Priyadarshan has had many ups and a fair number of downs, especially in his home ground. But it cannot be denied that he was responsible for some of Malayalam cinema's greatest successes. As he turns 66 on January 30, let's look at the director's Malayalam cinema career over the years.
The 80s
While Malayalam cinema was witnessing a paradigm shift with pioneers such as K G George, G Aravindan, Bharathan, P Padmarajan, and Adoor Gopalakrishnan delivering back-to-back masterworks, Priyadarshan arrived with his jocund Poochakkoru Mookkuthi (1984), starring Mohanlal, Shankar, Menaka, Nedumudi Venu, and Sukumari among others. In addition to being a great hit, the movie spawned a tonne more screwball comedies in Malayalam. The same year, he helmed yet another screwball comedy, the hugely successful Odaruthammava Aalariyam.
1985 and 1986 were pretty bustling for the filmmaker as he helmed a total of 11 movies. Apart from his usual screwball comedies, Priyadarshan also tried his hand at crime drama (Parayanumvayya Parayathirikkanumvayya), slapstick comedy (Aram + Aram = Kinnaram), and tragicomedy (Thalavattam) in these years. Unsurprisingly, all the movies were moderate-to-extreme hits, making him one of the most successful filmmakers of the era. In 1986, he also penned the scripts for Sibi Malayil's Chekkeranoru Chilla and Alleppey Ashraf's Ninnishtam Ennishtam.
The maker took a step back in 1987 after he failed to make his directorial debut in the Tamil industry. Though the shooting for his Chinnamanikkuyile, starring Karthik and Rekha, was almost completed, the film was never released due to unknown reasons. He made only one other movie that year—the drama Cheppu.
Priyadarshan and Mohanlal. (Photo: Priyadarshan/Facebook)
The director triumphantly made a comeback in 1988, helming a wide variety of flicks. Of the total five movies he made that year, four had Mohanlal in the lead roles. While his comedy-drama Chithram went on to become the highest-grossing Malayalam film of all time, playing in two theatres in Kerala for over 300 days, the director's political satire Vellanakalude Nadu and action crime film Aryan were two of the highest-grossing Malayalam films of the year and played for over 100 days in cinema halls.
Even though his Mukunthetta Sumitra Vilikkunnu developed a cult following over the years, especially for the combination scenes of Mohanlal and Sreenivasan, the flick received little attention when it was first released. In the meantime, Oru Muthassi Katha, in which Priyadarshan worked sans his usual stars, was a box office failure.
A subdued Priyadarshan made only three films in 1989 and 1990. In fact, his 1989 film Vandanam, which went on to become one of the most renowned romantic comedies in Malayalam cinema, had a less-than-stellar box office performance, making it a bad year for the director. On the other hand, his action thriller Dhanushkodi, penned by T Damodaran, was abandoned midway through production owing to budgetary reasons.
Nonetheless, he struck back the following year by making two films that were sequels to two famous duologies. Priyadarshan's Kadathanadan Ambadi, a follow-up to the 1964 film Thacholi Othenan (Dir. S S Rajan) and the 1970 film Othenente Makan (Dir. Kunchacko), was praised for its technical grandeur. He kept the ball rolling by helming the sequel to Sathyan Anthikad's Nadodikkattu (1987) and Pattanapravesham (1988) as well. Titled Akkare Akkare Akkare, the buddy-cop comedy film did well at the box office but was not very lucrative because of its hefty production costs. Nevertheless, the Mohanlal-Sreenivasan lines such as "Sadhanam Kayyilundo," and their combination moments became iconic thereafter.
The 90s
Though this decade was the period when Priyadarshan expanded his base and started doing movies in other languages, he never ceased visiting home and working with his favourites.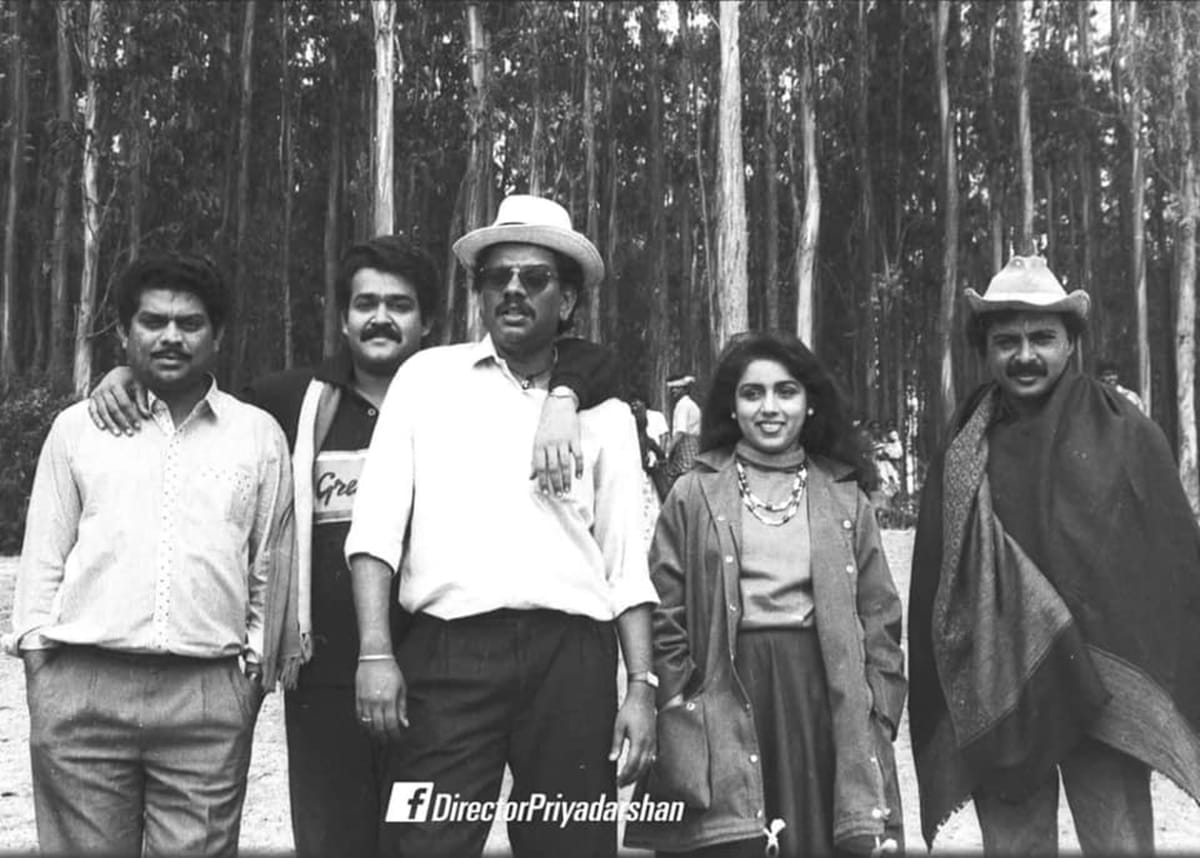 Priyadarshan with Mohanlal, Revathi and Jagathy Sreekumar on the sets of Kilukkam. (Photo: Priyadarshan/Facebook)
In 1991, Priyadarshan and actor-screenwriter Venu Nagavalli teamed up to produce one of Malayalam cinema's best comedies, Kilukkam, which was the highest-grossing Malayalam movie of its time and played in theatres for more than 365 days. The movie had such an impact on Kerala's popular culture that Malayali viewers still remember every shot, scene, and line from it.
T Damodaran wrote his next two movies, Abhimanyu and Adhwaytham, both of which were commercially successful crime dramas. With the family comedy Mithunam, Priyadarshan returned to his comfort zone in 1993 before taking a year off from directing Malayalam movies.
The director made two Malayalam films in 1994, and both were not only commercial successes but also became two of the most beloved Mohanlal films of all time—Thenmavin Kombath and Minnaram.
However, it took the director 22 years to prove himself as a meticulous director who was more than just slapstick and screwball. In 1996, Priyadarshan directed the technically stellar Kaalapani. The movie was the most expensive Malayalam film produced up to that point, costing roughly between Rs 2.5 crore and Rs 5 crore, according to various news reports. The movie was also dubbed and released in Tamil, Telugu, and Hindi. Superstar Amitabh Bachchan purchased the Hindi dubbing rights for the film and also provided narration for the Hindi version's prologue. The film won four National Film Awards—Best Cinematography (Santosh Sivan), Best Art Direction (Sabu Cyril), Best Special Effects (S T Venky), and Best Audiography (Deepan Chatterji). The movie also bagged seven Kerala State Film Awards.
Priyadarshan with Mohanlal, Amrish Puri and others on the location of Kaalapani. (Photo: Priyadarshan/Facebook)
The historical fiction movie included a diverse cast of performers from different languages. The ensemble cast of the film included Mohanlal, Tabu, Prabhu, Amrish Puri, Vineeth, American playwright John Kolvenbach, Annu Kapoor, Sreenivasan, Delhi Ganesh, Nedumudi Venu, Sankaradi, and Tom Alter. The songs in the movie, composed and conducted by Ilaiyaraaja, are still well-liked in Kerala. The film was shot in the Andaman and Nicobar Islands and several parts of Kerala and Chennai.
Following Kaalapani, Priyadarshan made only two Malayalam films in this period—the Mohanlal starrer Chandralekha in 1997 and the Mammootty starrer Megham in 1999. For their wit and the performances of almost all the actors involved, both movies won a lot of praise.
The 2000s
In this 10-year period, the director only made four Malayalam films. Following the release of his cult classic Bollywood film Hera Pheri and the Tamil mystery thriller Snegithiye in 2000, Priyadarshan returned to his home turf in 2001 with the Mohanlal starrer Kakkakuyil.
He teamed up with his talisman writer, Sreenivasan, in 2003 and made the romantic comedy Kilichundan Mampazham. The maker did not stop there and made another film the very next year, Vettam, yet another screwball comedy. His fourth film, however, was the long-delayed Raakilipattu. The movie, which was originally intended to be a bilingual production in both Tamil and Malayalam, was instead only released in Tamil under the name Snegithiye. The Malayalam version, Raakilipattu, wasn't released until seven years later. Therefore, technically speaking, Vettam was his final film of the decade.
Priyadarshan with Jyotika during the shooting of Snegithiye. (Photo: Priyadarshan/Facebook)
While Kakkakuyil, Kilichundan Mampazham, and Vettam managed to satisfy conventional fans of both comedy films and Priyadarshan cinema, thus becoming major hits, neither Snegithiye nor Raakilipattu did wonders at the box office but bagged positive reviews from critics.
This was also the period when people started criticising the director's tendency to keep using ideas that had previously worked for him, even after they had lost their effectiveness.
Post 2010
It is undeniable that the filmmaker, who formerly surfed the wave of success for many years, is currently going through a rough patch. Of the total 11 movies he made since 2011, across various languages, only two were hits, while the others failed to impress the audience.
After 2010, Arabeem Ottakom P Madhavan Nayarum in Oru Marubhoomikkadha (2011) was his first Malayalam movie. Even though the movie had a mediocre box office performance, many viewers were unimpressed because of the film's heavy déjà vu factor, particularly in the Mohanlal and Mukesh combination moments.
In 2013, the director returned with a horror film titled Geethaanjali, which provided Keerthy Suresh, the daughter of two of Priyadarshan's closest friends producer G Suresh Kumar and yesteryear actor Menaka, her first lead role. The film was panned by critics and viewers alike for not doing justice to any of its elements, including the genre, and tanked at the box office. The very next year, he made another movie starring Jayasurya and Piaa Bajpai. Despite earning mixed reviews from critics, the comedy-drama, Aamayum Muyalum, ultimately failed at the movie office because of its flimsy plot.
The maker, however, snapped back in 2016 and delivered a massive hit, the Mohanlal starrer Oppam. A crime thriller, Oppam impressed both critics and audiences, including the diehard fans of the superstar, and ended up being one of the most successful films of that year. Both the actor's performance and the director's skill to craft an edge-of-the-seat thriller received praise from all quarters.
In 2018, Priyadarshan reunited with his favourite actor Mohanlal once more and decided to finally launch his dream project, on which he had been working since the 1990s.
The maker and his team started Marakkar: Arabikadalinte Simham's pre-production activities in late 2018. The movie, one of the most expensive Malayalam movies ever made, was produced by Antony Perumbavoor's Aashirvad Cinemas with an approximate budget of around Rs 100 crore.
Despite the movie's intended March 19, 2020 release date, the Covid outbreak and subsequent lockdowns threw a wrench in its plans. The film, meanwhile, won three awards—Best Feature Film, Best Special Effects, and Best Costume Design—at the 67th National Film Awards. After several reschedulings, Marakkar finally hit theatres on December 2, 2021. However, it met with severe criticism from audiences upon release. Though the film had a whopping Rs 20 crore opening at the worldwide box office, the collections slowed down in the following days and the movie ended up being an abject failure.
Criticisms against Priyadarshan films
Over the last few years, the director has been chastised many times for his works, especially the earlier ones with writer T Damodaran, for their exaltation of upper-caste characters and anti-reservation proselytism.
While films like Chandralekha, Kakkakuyil and Kilukkam smuggled the 'Nair pride', albeit concealing them tightly using humour, the maker's Aryan and Adhwaytham were proudly casteist in nature and narrated the stories of UC heroes living in royal mansions but under 'penurious' conditions, to claim that reservation was the root cause of all social inequalities because it was "stealing the opportunities of the actual poor".
The director has also drawn criticism for using plots, stories, and sequences from other movies, particularly foreign ones, without properly citing the source material. From One Flew Over the Cuckoo's Nest (1975), While You Were Sleeping (1995), and French Kiss (1995) to Chashme Buddoor (1981), Boeing Boeing (1965), and A Fish Called Wanda (1988), he has lifted elements from so many films that one is left to question if he has ever produced any original work.
However, his ability to create hits and fill cinema halls with applause is unquestionable. Hence, a full-on Priyadarshan movie is still all that it takes to make the moviegoers paint the town red.